13.08.2017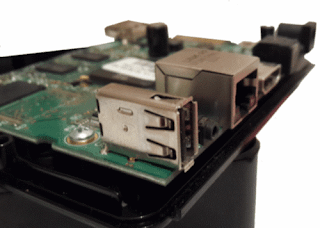 TV
set-top box MAG series
has long gained the sympathy of both IP-TV providers, and ordinary users. They are easy to setup and durable in operation. Many polzovatley are owners of consoles MAG254 or her twin, HD media player AURA HD. In terms of iron is completely identical devices and their problems, too, are peculiar to the same. You may notice that the problem MAG254 / AURA HD set-top boxes for the most part linked to the human factor and the wear and tear resulting from the operation. If you turn on the console, you do not see the image on the screen, it does not mean that the console MAG250 /
AURA HD for some reason does not work
.
Human factor
:
   

AV connector in the console MAG254

connected by soldering to the board. AV - cable (tulip) is usually not durable in operation, and is also subject to electromagnetic interference. User with operating experience Soviet television may seem that the problem is in contact in the connector AV, as a result of simple manipulations connector breaks out.

  Also be affected and

other connectors

if they are loose or incorporated into them wrong.

  If you turn on the power supply for more than 12 volts (MAG254, AuraHD plus, AuraHD Wi -Fi) and 5 volts for 250 Mag / AuraHD,

can burn

completely. In this case MAG254 / AURA HD will only work after the replacement of the board.

  

Colored stripes

, usually connected with the processor problems. More often than not soldered. It may be associated with the incorrect range of operating temperatures.

  If MAG254 / AURA HD works for a while, then

it starts to reboot or turn off

. The reason can be both in the console and the power supply.
Problems associated with the auxiliary equipment and incorrect settings
:
 

Most TVs do not take the HDMI analogue signal through

, or do not do it correctly. Therefore, it may be seen as the complete absence of images and all sorts of noise, if you are using HDMI. Therefore, the parameter "TV System PAL" should only be selected when using the AV output.

   The disappearance of the sound of the HDMI . In the console it is possible to start the video and audio to different outputs. Complimentary "Forsed DVI" in the prefix settings. Stops audio broadcast via HDMI. It is often used to connect audio equipment. 
 

Familiar portals do not run

. It may be due to updating firmware from the console or resource problems providing access to the portal.

 

Spread channels interrupt broadcast, "stuttering" sound

. It may be due to the quality of communication with the Internet, as well as by the quality of the broadcast, if there is a retransmission of the channels from the satellite.
   These are the main reasons why your
MAG254 broke down
, and can not at all broke down. In any case, should not engage in self-repair, and contact an authorized manufacturer service center. The service center can deliver a more accurate diagnosis, especially if it is in your town.